Complete Compressor Systems
Reliable dry air systems for industrial applications must be robust, reliable, and constructed based on proven designs. Eagle's rotary screw packages are built to meet the demanding specifications of the petrochemical industry. Our scope of packaging ranges from basic compressor/receiver units, to full systems with air dryer, microprocessor control panel, piping, skid, and building.
Please consider Eagle as your supplier of plant air for your next project.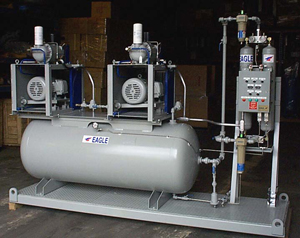 Complete Packaged Duplex system complete with Eagle EADR Regenerative Dryer