Industrial Division Packaged Systems
EGDR GAS DRYERS
Natural gas usually contains significant quantities of water vapour. Changes in temperature and pressure condense this vapour altering the physical state from gas to liquid. This water must be removed in order to protect processing systems from corrosion and hydrate formation. EAGLE has specially engineered the EDG Series Gas Dryer for natural gas applications. Systems are completely self-contained with pre-wired and pre-piped components, including pre-filtration.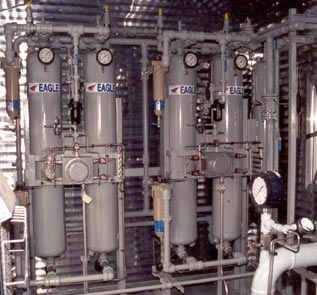 FEATURES OF THE EGDR GAS DRYER
Specifically formulated desiccant employs the principle of adsorption to remove water vapour. Water molecules attracted to the desiccant are held by Van Der Waal forces until the regeneration cycle activates, where the moisture is removed and expelled. An adjustable microprocessor controller is used for timing of the automatic regeneration process.
Reduces H20 content to < 4 lbs./MMSCF
Reduces "Heavy End" hydrocarbon content
200 PSI design pressure
Low velocity for increased efficiency
Low Pressure Drop design
OPERATING PRINCIPLE
Regenerative dryers provide an economical and efficient way of drying gases. By passing moisture laden gas over a desiccant medium, H20 is removed.
Eventually, the desiccant bed becomes moisture laden. The bed is regenerated by diverting the gas to a second dryer bed while passing a portion of the dried gas over the saturated desiccant in a reverse flow direction. Flow across the two beds is alternated as required to keep one bed drying gas while the other is regenerating.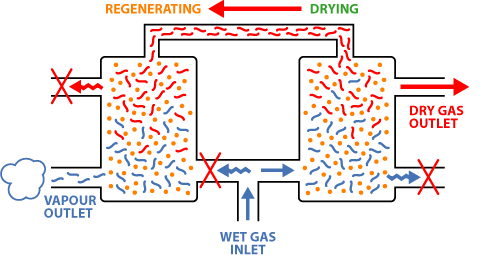 GENERAL SPECIFICATIONS
EAGLE EGDR SERIES GAS DRYERS